How Chaturbate works. The ultimate guide
11/28/2020

What is Chaturbate?
Chaturbate is one of the biggest adult cam sites on the internet. It was founded in 2011 and has taken the adult world by storm since. It's my go-to cam site, I couldn't imagine using any other.
You are able to watch girls, guys and transsexuals do sexual acts for money. You can also make money with Chaturbate and you don't need to be a stunning model.
The best way to find out what it is really like is to experience it yourself. What makes this site great is that the girls have to keep the viewers excited and constantly aroused to receive as many tips as possible.
Another thing that I really like is the fact that they chose a "freemium" model.
If you don't have money to tip the girls yourself you can still get the full experience. This is because users can work together to meet goals and models, in turn, will give the whole site a tease, flash or even show.
Chaturbate is incredibly sexy and I will warn you, it's very, very addictive. You may find yourself spending a lot more time with your dick in your hand than you first hoped.
However, If you feel like Chaturbate isn't really for you, there's plenty of other sites like chaturbate.
How Chaturbate Works
Signing up to Chaturbate is completely free of charge and will allow you to spectate models cams in fullscreen and chat to them through text. (Some models will only allow people with credits or history of tipping to chat. This prevents free-loaders from spamming chat).
A free account will allow you to access every public show on the site. A lot of girls will do squirting, fuckmachine & cum shows in public so you can experience the majority of the website for free. Though the general idea is that viewers exchange their money for tokens which in turn they can spend on pleasure.
There are premium shows on offer too. You can take part in password shows and private chats for a price.
Depending on what is agreed beforehand, these can be a lot more personal. You can even take it further and do C2C while speaking over voice to a girl of your choice. Another bonus of paying for private shows is that you can pretty much direct your own adult film.
If you don't want to show yourself you don't need too. It's just one of the many benefits of paying for a show. Paying for shows doesn't have to be expensive either, keep reading to find out how to get the most out of your money on Chaturbate.
At the end of the day, the girls are there to work for money. If they aren't earning, they're not going to give you or anyone else a show. On the other hand, if the models aren't giving you a reason to tip, you're not going to part with your hard earned cash.
How to use Chaturbate
Thankfully Chaturbate is very simple to use. While it's not the most pleasing on the eye, it gets the job done and as long as the cameras are high quality, I don't really care what the menus look like.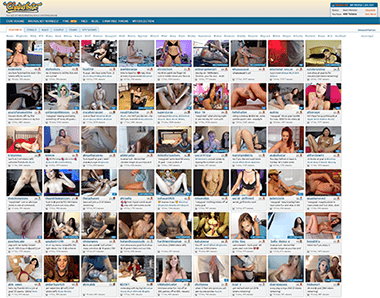 As you can see the homepage layout is very basic, you begin on the featured tab which shows you the very best of each gender. I'm pretty sure that over time (providing you use an account), the featured cams start to lean slightly towards your viewing preferences though I may be wrong.
Thankfully the main navigation is the Gender tabs. This keeps it easy to cycle between genders and will prevent you from accidentally clicking on a male or trans cam if you're only into girls.
If you want to filter the cams further, you can click the "advanced options" button in the top right of the photo.
Another way to filter the cams is using the tag system. This relies on models entering accurate tags into their broadcast title. unfortunately, some spam titles with the tags as they think that'll increase their viewer count, It doesn't. If they don't offer what's listed viewers will just bounce.
Have a preference for South East Asian beauties? Blonde Polish stunners? You can filter the cams based on Region as well. This will increase the chances of you finding models that speak your language and will allow you to experience Cam 2 Cam in ways that you haven't before.
I refuse to pay for cam shows that aren't HD. Thankfully Chaturbate offers a method to prioritize HD cameras so that I don't need to filter through endless low-quality cameras to find ones that I actually want to watch.
Sign in and follow the models you enjoy the most. This will allow you to keep track of girls that you have previously enjoyed or want to go into private with at some point. I personally follow girls that do a lot of high quality, entertaining public shows and other girls that have HD cameras and do great private shows for as little as 6 tokens per minute.
There is a fair number of girls that either under deliver on there promises or just straight up scam you on Chaturbate, especially among the low price models. I would suggest signing up as early as possible and following the girls that offer a legitimate service at a good price.
Getting cheap private shows on Chaturbate
Scroll "all the way" to the bottom of the page on Chaturbate and you'll find an extra secret navigation panel in the footer. I am not sure, but I believe the average user on Chaturbate is not aware of this panel at all, it has saved me so much time and money already.
You are able to filter by Age, Region, Status of Cams and even the price of private. Unfortunately, when using these filters you are not able to use tags but that's a small price to pay. You can still use the "Advanced Options" to filter by region which will help you find cheap English speaking models.
I personally like to filter by cams that cost 6 tokens per minute. If you do that and prioritize HD cams you can get amazing quality broadcasts for less than $.80 a minute. Most of the models that broadcast at 6 tokens per minute will be Colombian or Eastern European, communication may be a little tricky however many of the girls do speak English to some extent.
Navigating a chaturbate broadcast
It's very easy to navigate a Chaturbate Broadcast. They are fairly straightforward and most of the time you'll be looking at the live feed, nothing else.
The first thing you need to take note of is how to tip models. I personally stay away from tipping for anything other than Password Shows. However, you can tip using the "Send Tip" button. It will then ask you how many tokens you want to tip and give you an opportunity to leave a tip note for the broadcaster.
Second of all "Start Private Show", this is my favorite button on the website. Once you click this button your browser will prompt you with a pop up that tells you the models price per minute, minimum minutes required for a private show and will make you either confirm or cancel the private show.
Finally, you can be PM'ed by the models. When you go into chat rooms (if you spend money) the models are able to tell. If you go into any low-mid viewer count 6tks/min room after spending tokens, odds are you will be pm'd upon arrival and the model will, to some extent try and make conversation with you.
Chaturbate Tokens & What they get you
Tokens are the main currency on Chaturbate. You can exchange tokens for password shows, private shows, videos, pictures as well as tip models that you enjoy watching.
Broadcasters will set goals, prizes and will also flash for a certain number of tokens. Some will even allow you to purchase used underwear and printed photographs in exchange for your tokens. Keep in mind that tipping a broadcaster tokens doesn't guarantee you anythin.
Tokens cost as much as $10.99 per 100 tokens. The more you buy, the "cheaper" they are per token. Unfortunately, the models don't get the full value of your tips, they get $5 per 100 tokens, so Chaturbate and payment fees take the majority of your money.
Chaturbate offers $10 to the top broadcaster every hour, however, this is obviously such a rarity for most of the cam girls as they'll never be popular enough to get that extra $10 an hour. If and when they do get that popular they're not even going to notice an extra $10 because they'll earn a lot more.
Tokens make the world of Chaturbate go round. You can still have a good time without them, however, you'll have a much better, more personal experience when tokens are involved.
The Value of Chaturbate Tokens
100 Tokens – $10.99 = $0.1099 per token
200 Tokens – $20.99 = $0.10495 per token
500 Tokens – $44.99 = $0.08998 per token
750 Tokens – $62.99 = $0.08398 per token
1000 Tokens – $79.99 = $0.07999 per token
If you were to buy the 1000 token package and spend it on 6 tokens per minute cams, you'd get 166 minutes of private chat, working out at approximately $0.48 per minute which is an absolute bargain when it is compared to Chaturbate competitors.
Chaturbate user types
As I've already stated, upgrading your account is a complete waste of money.
You do get rewarded slightly for spending money on Chaturbate though. As you spend, you'll reach certain milestones which will change the colour of your name. This obviously tells the models who the big spenders are, and in turn, they're more likely to PM you and start a conversation.
Orange

names are Broadcasters

Red

names are Moderators

Light Blue

names own or have purchased tokens

Dark Blue

names have tipped at least 50 tokens in the past 2 weeks

Light Purple

names have tipped at least 250 tokens in the past 2 weeks

Dark Purple

names have tipped at least 1000 tokens in the past 2 weeks

Green

names are fan club members

Grey

names have no tokens
If you want attention when entering most models rooms, make sure to spend at least 50 token every 2 weeks. That's as little as $5, and you'll get a lot more private messages and attention from the girls you're watching. Light blue members do get attention but not so much.
Chaturbate Payment Processors
CB accepts many different payment methods. These are:
Credit Card (Visa/Mastercard/Discover)
Paysafecard (Over 18)
Epoch (Credit Card/Paysafecard)
Wire transfer
Cryptocurrency – (Bitcoin, Bitcoin Cash, BlackCoin, Dash, Decred, Doge, Ether Classic, Ether, Komodo, Litecoin, Potcoin, Qtum & Vertcoin).
If you cannot use any of those payment methods, there is no hope for you on any other site. Chaturbate accepts all major payment processors and more.
Sites that Rival Chaturbate
Competition is healthy right? Despite being founded in 2011, which is quite recent for an Adult Cam Site, Chaturbate is one of the top dogs and they're not innovating or bringing new features to the cam scene. They're the Mr.Reliable of cam sites, they've nailed the basics and are the best option on the web (in my opinion).
Here are 2 Chaturbate competitors that I'd suggest trying out:
My favorite feature has to be the fact that they allow you to do C2C through the site. When doing Cam 2 Cam on Chaturbate you'll need to go live and broadcast yourself, this means there's about 30 seconds – 1-minute delay between you and the girl you are watching. BongaCams doesn't have this issue.
CamSoda – A retro looking site that focuses on getting the basics right. The navigation is very similar to Chaturbates, however, they don't actually put genders as tabs which is an issue. You need to filter through tags to find Male, Female, Trans etc.
That being said it's a decent cam site and many famous pornstars such as Brandi Love broadcast here. They also offer a library full of high quality, well-produced porn videos, while also promoting their amateur models videos more than Chaturbate as well.
StripChat – Back onto the Freemium sites. Stripchat is good because like chaturbate, it's a freemium site. The girls are pretty average and the camera quality isn't necessarily anything out of this world. It's a site that when compared to Chaturbate, is very poor.
It's still a half-decent alternative, just because I'm not a fan, doesn't mean that you'll not enjoy the site. Different strokes for different folks and all that.
Chaturbate actually has a community.
Don't get me wrong, it's in the models best interest to remember who her regulars are and find out more about them but some of the girls go over and above.
I'm not a fan of giving out my real information online, however, I give the models fake names and a lot of them, especially the milfs, remember what name I told them. They'll try to make you feel guilty if you don't remember theirs though.
Whatever you're looking for, Chaturbate has it. It's one of the biggest adult sites on the internet and you'll struggle to find any better. Sign up and give it a try today.